Of all of the unfortunate and tragic deaths that this horrible year has seen, none were more shocking than yesterday's news that Stephen "tWitch" Boss, the gifted former DJ of THE ELLEN DE GENERES SHOW, a respected dance coach who had just completed a well-received season of SO YOU THINK YOU CAN DANCE, a highly succeesful and loved father of three, took his own life in a Los Angeles hotel room.  Boss was just 40 years old.
The outpouring of grief and remorse from his family and friends was, of course, impassioned,  Even DeGeneres, revealed to be a far less caring person to the majority of her staff the year before her show's end, was clearly and indisputably saddened, as this heartfelt tweet expressed:
I'm heartbroken. tWitch was pure love and light. He was my family, and I loved him with all my heart. I will miss him. Please send your love and support to Allison and his beautiful children – Weslie, Maddox, and Zaia.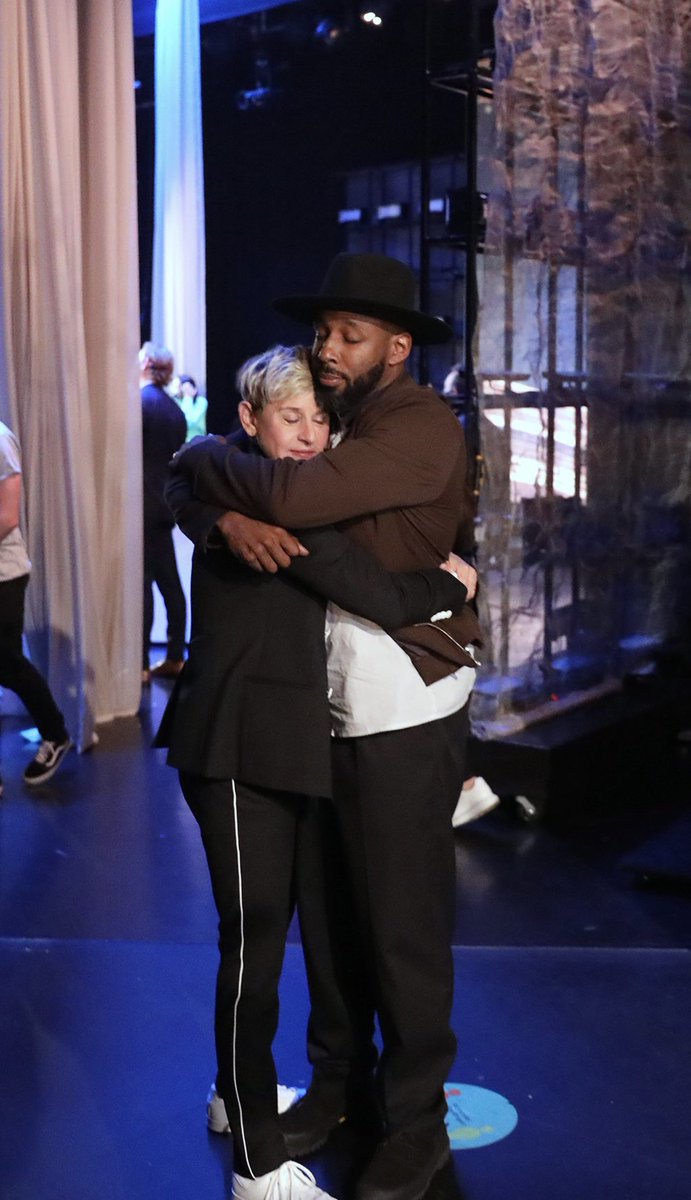 I actually believe her for once.
I certainly believe his lovely widow and mother of his children, as Yahoo!'s Inga Parkel reported:
His wife Allison Holker confirmed his death in a statement on Wednesday (14 December), writing: "It is with the heaviest of hearts that I have to share my husband Stephen has left us. Stephen lit up every room he stepped into.
"He valued family, friends and community above all else and leading with love and light was everything to him. He was the backbone of our family, the best husband and father, and an inspiration to his fans."
Holker continued: "To say he left a legacy would be an understatement, and his positive impact will continue to be felt. I am certain there won't be a day that goes by that we won't honour his memory. We ask for privacy during this difficult time for myself and especially for our three children. Stephen, we love you, we miss you, and I will always save the last dance for you."
As is often the case with suicides, the disbelief for the survivors is especially painful, the second-guessing rampant and pervasive.  Ross was by all accounts a happy, successful, beloved personality, parent and spouse.  Even the hotel clerk at Encino's Oak Tree Inn, where Ross killed himself, reported no visible signs of distress when he checked in.  One can only wonder what was troubling him so deeply that he chose not to share that he could bring himself to do this.  Many of those most directly impacted will ultimately move from grief to anger, because ultimately suicide is a highly selfish act.
Since Stephen Boss chose not to share his despair, we are left to speculate for eternity.  We will try and make sense of it.  And as the Yahoo story added on, there are allegedly places where Boss and others can turn to when all else seems lost:
If you are based in the USA, and you or someone you know needs mental health assistance right now, call National Suicide Prevention Helpline on 1-800-273-TALK (8255). The Helpline is a free, confidential crisis hotline that is available to everyone 24 hours a day, seven days a week.
You may be aware that this service is also now available through a simple 988 dial or text code, having been so endowed this past July.   Be aware that funding for it is up for discussion in February and the party that will be in control of Congress by then doesn't believe it should be renewed.
And as someone who judging by his phone log has called those numbers dozens of times in recent weeks, let me offer a personal experience caveat:  They are understaffed, overwhelmed and underappreciated, and at best will offer you 10-15 minutes at a time and spend about a third of it with demographic questions.  In effect, you're doing market research, and as someoen who's done it successfully for decades, there's ample room for lying.
Maybe that Stephen should have reached out more often and more openly.   It would appear in hindsight he had a lot more resources than this Steven does today.  Certainly a lot more people in his life who were capable of helping him than I've seen of late.
I'm particularly distraught as I write this because my best friend is now justifably angry at me for being incapable of being positive enough to even listen to their considerable struggles with pain and finances.  I've been accused of being a spolied ingrate, not worthy of their time and essentially my own worst enemy.  Frankly, the fact that they cared enough to be brutally honest enough to say that shows a far greater degree of empathy than I've heard from an overwhelming majority of people I thought were friends.
And the truth is–they're right.  Which saddens me even more.
Yes, my financial situation is dire.  I despise admitting that publicly, especially when I aspire to be so much more to the companies and individuals of enormous wealth that I was once a trusted consigliere to–and believe with every ounce of strength I very much still can be.  I'm truly beyond frustrated that the cocktail of business implosion, coronavirus fearmongering and an inexcusable belief that only younger and more diverse people deserve any chance to work these days has cost me this much for this long.
And yet–in many people's situations–they've got their own problems.  Spouses in hospitals.  Greater debt than mine.  Parents dying.  Pets dying.  Children bringing home the triple virus and ruining holiday plans.  Being fired.  Since none of that applies to me, how dare I feel as horrible as I do, right?
I honestly wish I had had the chance to have driven tWitch to his hotel (it was reported he took a rideshare and not his car, which was his wife's first clue something was amiss).  I probably wouldn't have recognized him–to be honest, I had given up on Ellen long before the world gave up on me.  But maybe we might have chatted, realized we had some folks in common, and maybe his mood might have brightened just a little, enough so that he might not have pulled the trigger.  As far as he's concerned, that's my second greatest regret–my first, of course, is that his children will no longer have their father.
So, yes, there is a link at the bottom of this page that I've been loath to share pubicly, and will likely be castigated by many for making public this way.  You can click on it if you wish.  It will share more details of my situation, and provide an opportunity for one way for you to help if you can.  A few unlikely people already have; I am eternally grateful for that.  Literally all that I have right now is due to that generosity.  But it's nearly depleted.  Gas is expensive, if you haven't noticed.  And for those of you who indeed are in worse straits than I, all I would ask is that you share it.  Somewhere, someone else might be more capable, and I totally understand if you can't.
But here's my most gaping hole:  Connection.
I've reached out in so many ways to so many people in so many ways literally begging for a phone call–an e-mail–a text.  A job reference–NOT A LINK!!!!  LINKS DON'T WORK –at least for me!!!   Real person.  Actual opening.  Real company.  No hiring freeze.
I won't continue–I'm far too resentful that someone who was once in my life seems to somehow know people who actually run busineses and hire them, and has a family who is providing them a passive income ample enough to travel constantly.  Anytime I bring up this example to anyone who was once in my support system, they're dismissive, insulting and exasperated that I even consider this person an inspiration.
I get that people are busy.  I get that work and family demands get in the way.  I get that the holiday rush is likely taking up a lot of your time.  I get it.  I get it  I GET IT.
But perhaps–just perhaps–if a few of you split the burden, it wouldn't be all that taxing.  Don't just simply like this post; that's all well and good.  To me, liking a post is merely a twitch, an acknowledgement.  It's not an interaction.
I need to hear an actual human's voice–someone I know, not some faceless 988 operator.  I need a hug more than ever–five vaccines, dammit, what more can I possibly do to convince you I'm not an asymptomatic superspreader?  I need a real friggin' job that will pay me enough to make a real dent in my debt.  I need a little bit so I can help the one person who has been in my life that has bigger needs than I than I now cannot help, and is so angry at me right now even they are ghosting me (with justification),
Do you think this sounds pathetic?  A cry for help that underscores my unworthiness?  That' would be your opinion, and at this point I couldn't argue with you for having it.  I can ask for a shred of empathy, but most people have already demonstrated even that is beyond their current capacity.
Well, suppose tWitch had reached out to you with the same requests as I, at least in the emotional support area.  Suppose he had utilized his network for a simple conversation–an investment of time, not the money he clearly didn't need all that much.
I suspect you might have been intrigued enough to reach out to him.  And perhaps he might be around looking forward to the holidays.
Well, that Stephen didn't ask.  It's truly tragic.
This Steven is asking.  Dammit, I'm PLEADING.
You can google my contact information.  I'm ready to work.  Hard.  Long hours.  And for not much money.
I'm ready to listen.  As long as you need or desire.
I'm ready to have some reason to light candles or sing carols.  I'm flexible these days.
And, dear God, I am SO READY to offer a hug.  Vaccinated or not.  I don't think you'll get me sick.  Fool that I am.
Suicide hotlines only offer the equivalent of a band-aid when a tourniquet is needed.  The internal bleeding is intense.
And I can't in good conscience bother my special friend any more.  That person has reached their breaking point.  And that only intensifies my despair.
So I'm yet again pleading for your ear first, your actual job lead second, and your generosity third.  Absolutely nothing would make me happier than to be able to devote this space exclusively to the analysis and objective insights of attempting to make the media world more accountable for their missteps and poor choices that have impacted far too many really outstanding people.
I can only do so much alone.
tWitch should have known that.  He should have let people know he was suffering.  He should have given his world a chance to help him.
Well, I've at least let you know my situation.
Now it's your choice whether to pay attention or not.
I want my life back,  I want my friends back.  I want my best friend back most of all.
F–k this virus once and for all.  F–k the morons who overestimated their ability to reshape the media world and ignore the legacy minds and businesses that made them successful enough for them to take over and ruin.  I absolutely believe I can do better than many who are still around, and I want absolutely most of all the chance to remind you exactly how good I am.  Hire me.  For something.
That's where I am right now.  It's not a good place, I admit.
But at least I'm still in a better place than tWitch is.   For now.
I'm still twitching, at least.  At least for now, it's not rigor mortis.
Thanks in advance for anything you can offer.
Happy holidays?
Until next time…
Fundraiser by Steven Leblang : Steve Leblang (gofundme.com)